Video Review: The Insight 24/7 Controller By Puratek (part 1)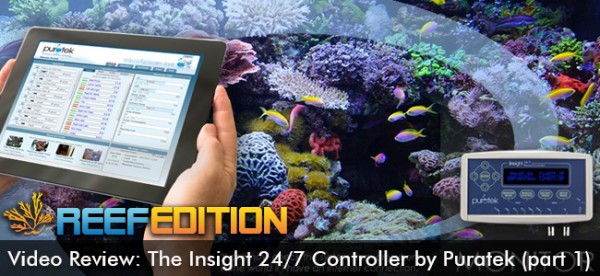 Advancement in the marine aquarium technology is astounding. Today we are able to do more to care for our marine animals than ever before with better tools than ever before. One of the most impressive tools to be created in modern marine technology is the tank controller. The controller is one of the most coveted technological advancements among hobbyists because of the ability to monitor, control, and automate tank equipment functions based on the needs of the tank itself.
I am excited today to present a review of one of the most advanced controllers on the market, the Puratek Insight 24/7. The Insight 24/7 was designed by Puratek to offer everything needed for monitoring and controlling every aspect of tank function with plenty of fail safes built in. With software that allows control through computer, phone, or tablet, the Insight 24/7 is designed for accessibility from any location. It can monitor, control, and automate everything from ordinary everyday functions like lighting control, feeding, and auto top off to more complex tasks like chemical parameter control or even automated water changes. Through its many monitoring systems, the Insight 24/7 can correct problems when something goes wrong and will notify the tank owner via email when something goes amiss.
In this video (the first of a 3-part series), I will be unboxing and installing the Insight 24/7 so that you get an idea of the capabilities of the unit and what comes with it. In follow up videos, I will be looking at software installation and controllability as well as the different accessibility options through alternate devices. Click the video, and let's get this thing set up!
If you have questions about aquarium controllers then check out our controller forum. If you want to ask questions about the Puratek Insight controller then visit their forum here on Reef2Reef.






Tags:
aquarium controller
,
controller
,
puratek