Video Review: SURF4 Algae Turf Scrubber By Santa Monica Filtration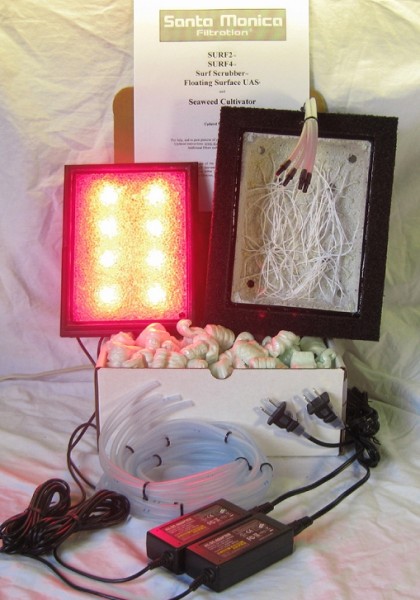 There are few things more important to the stability and health of a reef tank than the export of excess nutrients through efficient filtration. While it is true that there are a great many options available to the modern aquarist through mechanical, chemical, and biological filtration, there are few methods (arguably none) as efficient as the algae turf scrubber. After all, algae is nature's way of dealing with nutrient export in lakes and oceans to start with, and so an algae turf scrubber is the utilization of the natural method of export for the maintenance of a healthy reef ecosystem.
In this video review, it is my privilege to demonstrate one of the most innovative and effective algae turf scrubbers available on the market today—the SURF4 by Santa Monica Filtration. The SURF4 is designed to float on the water's surface (in either the display tank or sump) and functions as light from the LED's shines onto the green-grabber material in the growth compartment while air bubbles are passed through the compartment—creating the perfect conditions for algae growth. The SURF4 is well-designed and constructed for ease of use and efficient/potent functionality for maximum nutrient export (it is rated for exporting the nutrients of 4 frozen cubes fed daily). As you will see in the video, the SURF4 is designed to be the best in its class of algae scrubbers.
In this video, I will be unboxing and installing the SURF4 so that you get an idea of the capabilities of the unit and what comes with it. I will explain the function of an algae scrubber and show how the SURF4 is specifically and intentionally designed for achieving this function in the most efficient ways through creative innovation. But don't take my word for it…watch the video!
Check out all the great info on the SURF4 by Santa Monica Filtration!






Tags:
algae scrubber
,
algae turf scrubber
,
santa monica filtration