Reef Spotlight: March 2015 Toxic's (Kevan H) 185g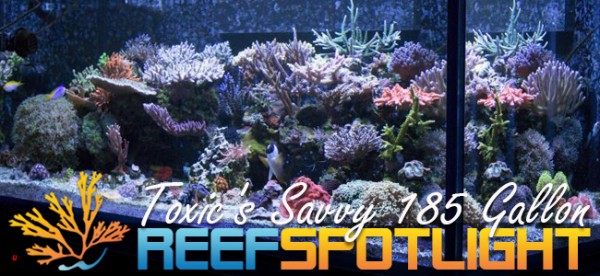 By Krista Guogas for Kevin H.
I'm originally from the island of Trinidad and Tobago in the Caribbean. While living there, I had taken for granted the beauty that our beaches housed. It wasn't until many years of living in Tennessee, that I was drawn to the hobby. I actually paid attention to what was living in the reefs. It all started while at a LFS purchasing a 30-gal. freshwater setup for my dad's birthday. I was mesmerized by some pulsing xenia of all things. It resulted in me making follow-up trips to look at it, along with some other corals and fish.
After some additional visits and many hours of research, I took the plunge in 2010. This is when I purchased a Red Sea Max 130D, 34-gal. all-in-one aquarium. After keeping that system running successfully for almost a year, I upgraded to a 120g Oceanic Tech Tank. After all, how hard can it be?! I had more water volume and, thus, more stability, so it should have been an easier aquarium to keep.
Well, that thought changed within a few weeks. But, as I gained experience and knowledge, it slowly began to get easier and my fish and corals started to thrive. That was until one day I couldn't open the door on my stand. I looked on the side and I turned white. My Oceanic stand was failing. It had swollen up and caused the tank to lean. I sat my wife down and detailed a bold plan for another upgrade instead of repair because I wanted to go bigger. I also discussed purchasing the next tank from a premiere tank builder such as Reef Savvy. After getting my wife on board with the upgrade, I spent some weeks/months planning almost every detail and purchased a Reef Savvy 185-gal. aquarium. I'm quite happy with the aquarium have no plans to replace or upgrade at the moment. But if I move, I do love the 300 deep-dimension aquarium shape . . .
System Profile:
Display tank: Reef Savvy Rimless, 185 gal., 5 ft. x30 in. x24 in.
Starfire Glass on three sides
Stand: Locally sourced 1.5-in. square-tube iron stand, double powdercoated
Sump: Synergy 40x22x18 in.
Protein Skimmer: ATi powercone 250is
Carbon/phosphate filtration: Rox carbon in a TLF Rx; BioPellets in a RO BR-110; WaterFall ATS
Return Pump: Eheim 1260 (modded) https://www.youtube.com/watch?v=1RFHUbAtRQw
Water Circulation: Distribution Manifold Pump Waveline DC-6000
Lighting: Custom DIY LED/T5 Hybrid T5/LED hybrid build
Ca/Alk/Mg dosing: Geo CalRx w/Synergy 2nd chamber; Avast K2 kalk stirrer
ATO: Tunze
RO/DI: four-stage 150 gpd
Heating/cooling: JBJ 1/4 HP Chiller / 2x 300-W heater
Apex Controller with 2ea EB8; EB4; VDM, AFS
Water Circulation & Flow:
Two Tunze 6105 units on the back wall that pushe the water along the back wall. There are also two Tunze 6095 units on the sides facing each other flowing water across the front of the tank. They are programmed/controlled to create a gyre that's alternating every 2 hr.
Water Parameters:
*Disclaimer: I'm very bad at testing. Please don't follow my example and test your parameters.*
Temp: 76 to 78 F (winter), 77 to 79 F (summer)
pH: 7.8 to 8.0/8.1
Specific gravity: 1.025
Ammonia: N/A
Nitrite: N/A
Nitrate: N/A
PO4: 0.08 to 0.15
Calcium: 380 to 400
Alkalinity: 7.8 to 8.1
Magnesium: N/A
Lighting Summary & Objectives:

T5s: (Front to back) Blue+ (x2), Fiji Purple, Actinic+, Blue+ (x2) / 10 ea Cree XP-E Cool White, 20 ea Cree XT-E Royal Blue
Photoperiod:
T5: 12 p.m. 8 p.m.
Blue LEDs: 0% to 100%, 10 a.m. to12 p.m.; 100%, 12 p.m. to 8 p.m.; 100% to 0%, 8 p.m. to 10 p.m.
White LEDs: 0% to 30%, 11 a.m. to 12 p.m.; 30%, 12 p.m. to 8 p.m.; 30% to 0%, 8 p.m. to 9 p.m.
Filtration & water quality summary & objectives:
5-gal water change weekly/bi-weekly
Rox Carbon
Waterfall ATS
EcoBak biopellets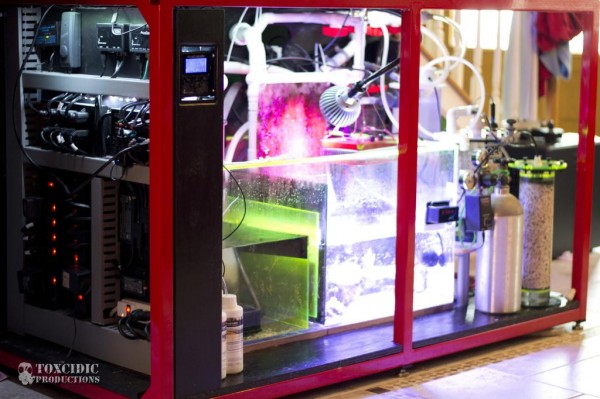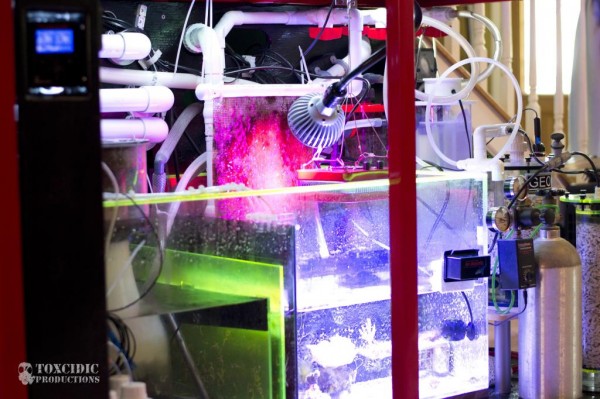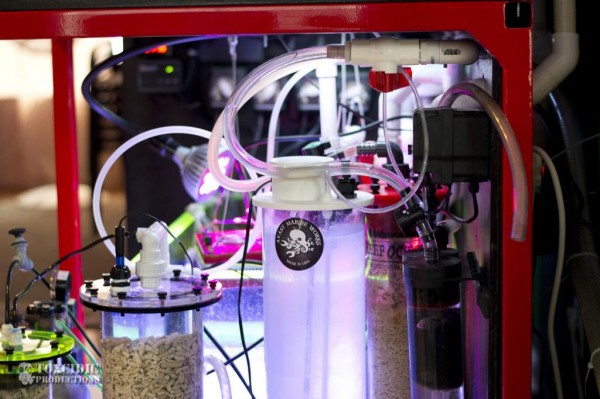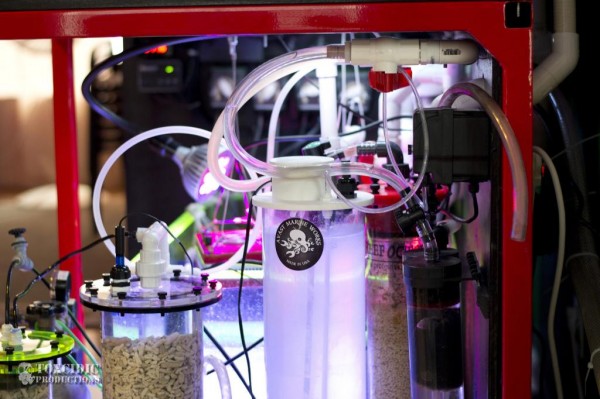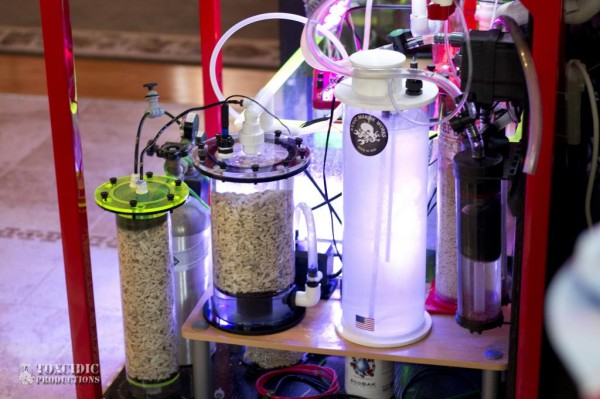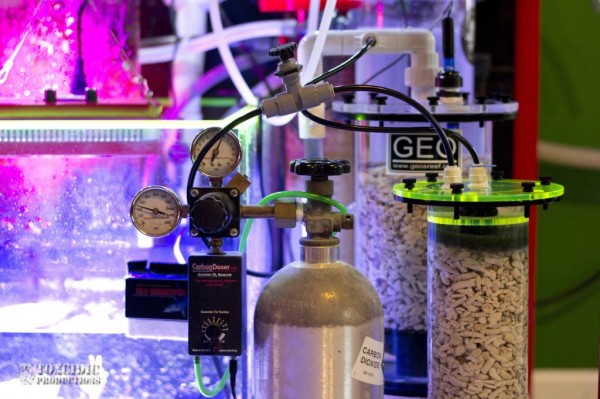 Tank inhabitants:

Fish:

Yellow Belly Regal Blue Tang (Paracanthurus hepatus var.)
Blotched anthias (Odontanthias borbonius)
Neon goby (Elacatinus oceanops)
Bartlett's anthias (Pseudanthias bartlettorum) pair
Red Head goby (Elacatinus puncticulatus)
Carpenter's Flasher wrasse (Paracheilinus carpenteri)
Frozen Frostbite Pair
Chevron tang (Ctenochaetus hawaiiensis)
Magnificent Foxface (Siganus magnificus)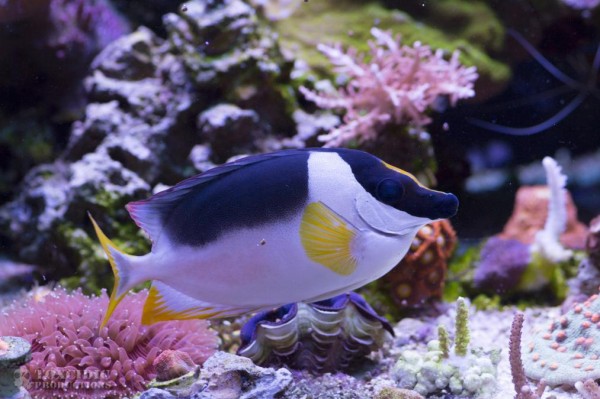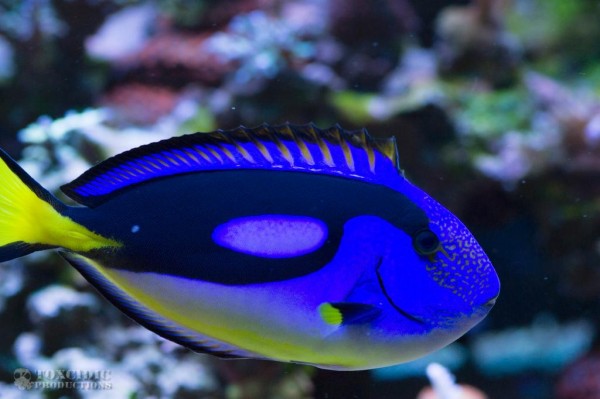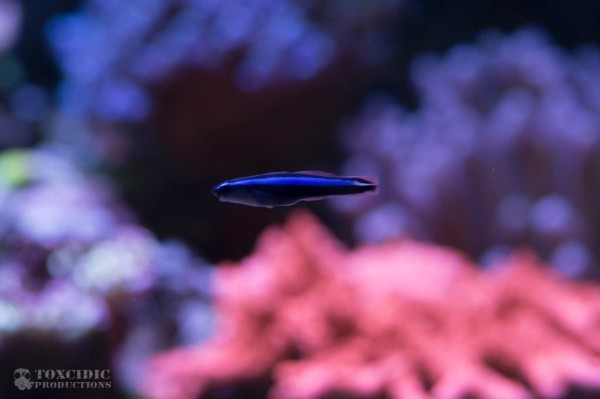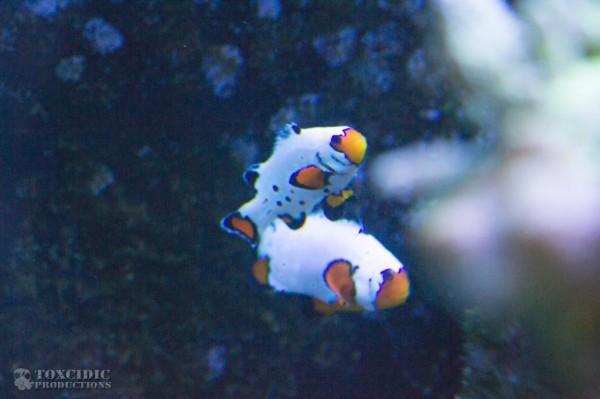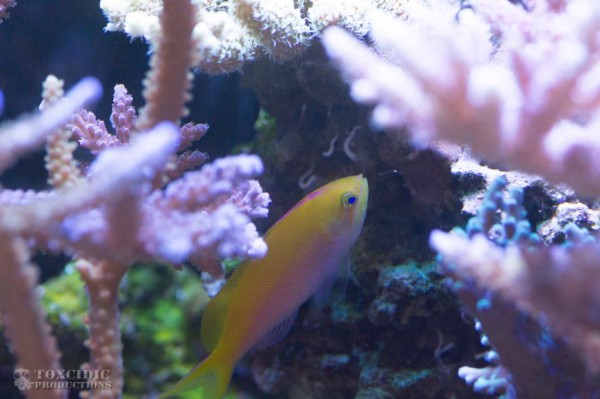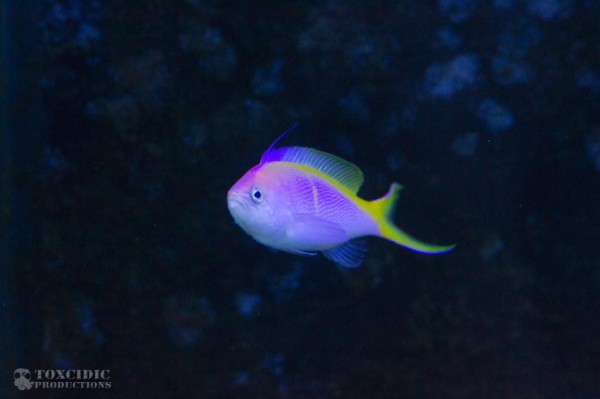 Sexy Anemone shrimp (Thor amboinensis)
Porcelain Anemone crab (Neopetrolisthes ohshimai)
White Spot Anemone shrimp (Periclimenes brevicarpalis)
Scarlet Skunk Cleaner shrimp (Lysmata amboinensis)
Blood Red Fire shrimp (Lysmata debelius)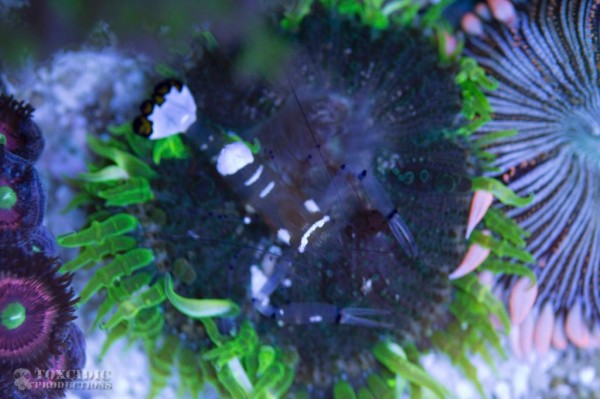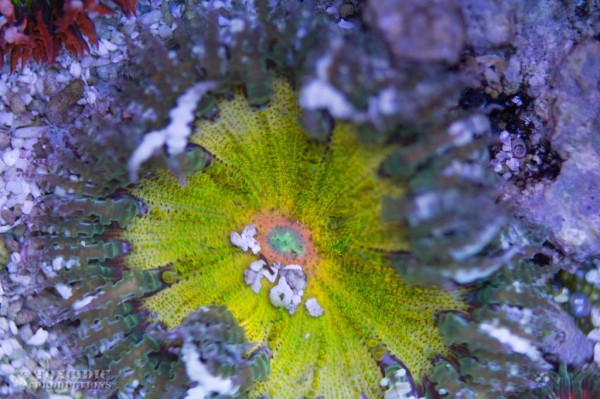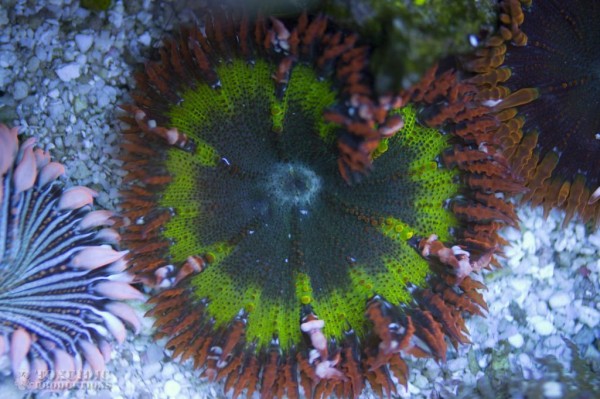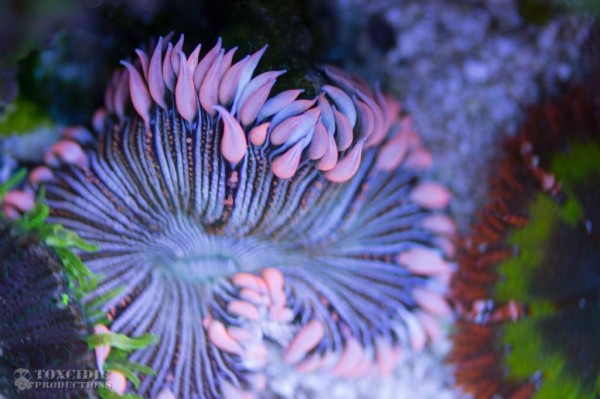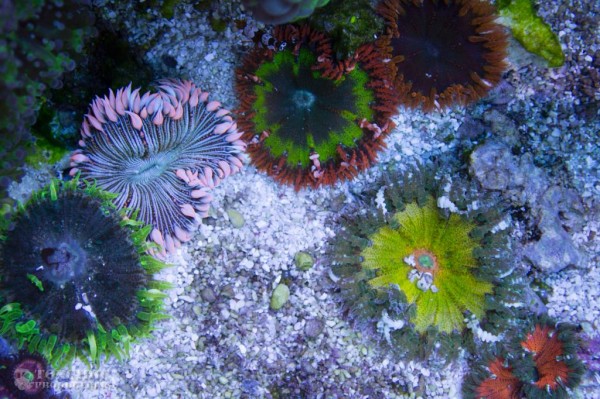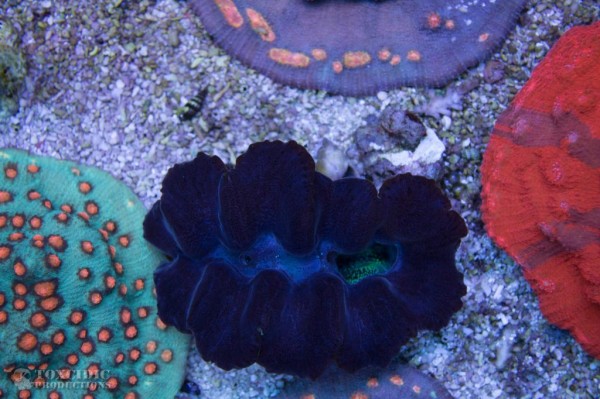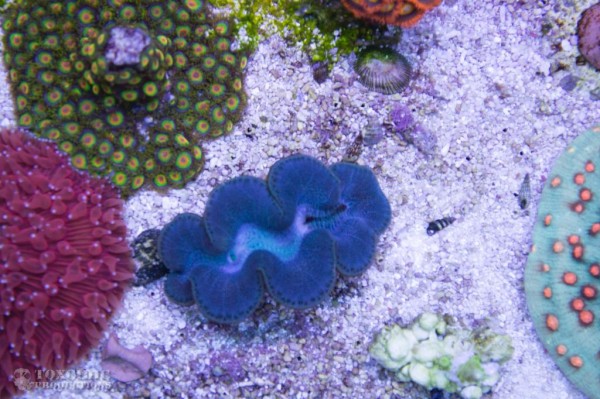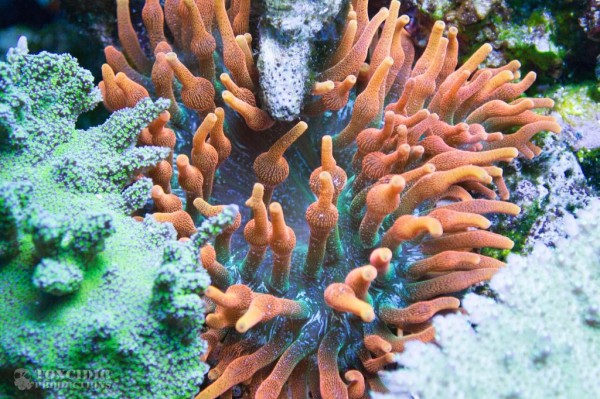 Corals:
Acropora yongei
Acropora sp.
Acropora cervicornis
Acropora valida
Acropora nasuta
Acropora hyacinthus
Seriatopora caliendrum
Seriatopora guttatus
Acropora echinata
Acropora microclados
Montipora setosa
Acropora efflorescens
Acropora lokani
Acropora granulosa
Acropora tenuis
Montipora Digitata
Acropora horrida
Acropora tortuosa
Acropora millepora
Plerogyra sinuosa
Zoanthidea
Scolymia australis
Echinophyllia aspera
Euphyllia ancora
Euphyllia glabrescens
Euphyllia divisa
Faviidae
Blastomussa wellsi
Dendrophyllia sp.
Leptoseris foliosa
Fungia repanda
Sarcophyton sp.
Acanthastrea echinata
Protopalythoa
Cyphastrea microphthalma
Montipora capricornis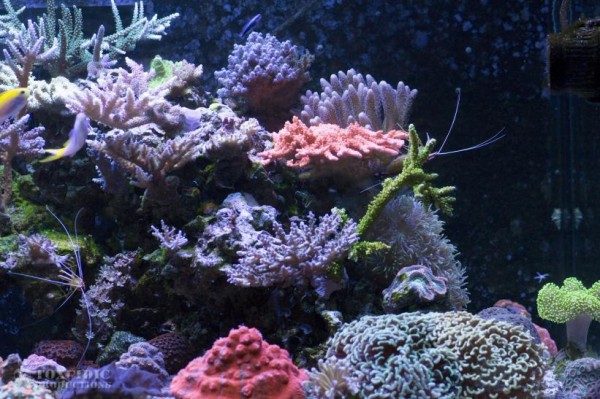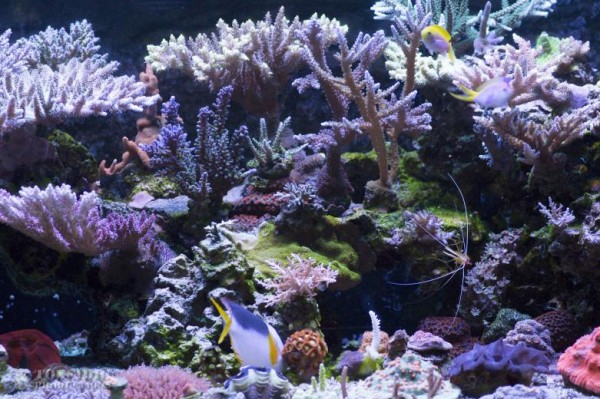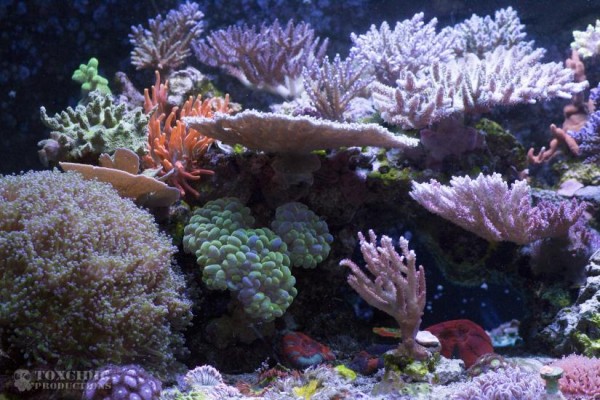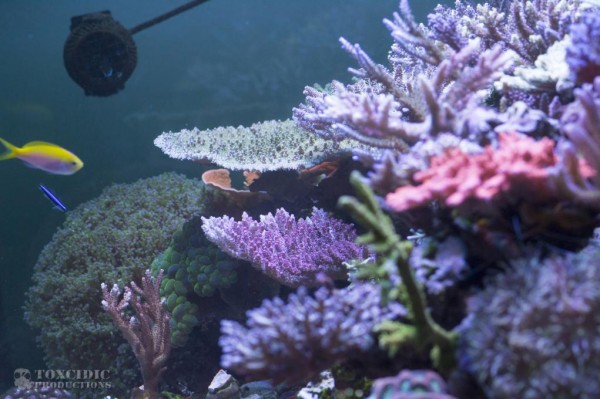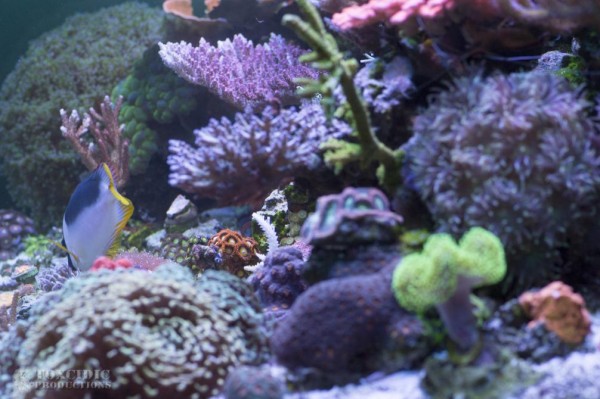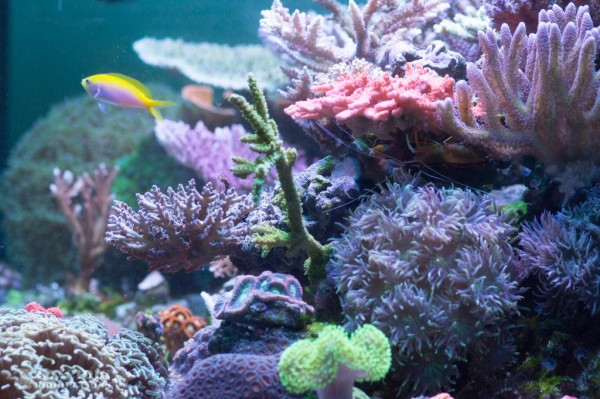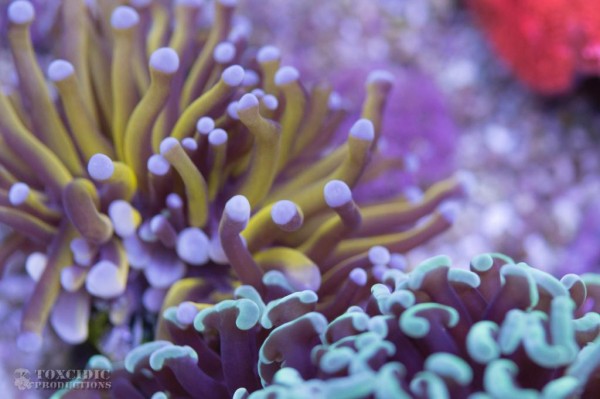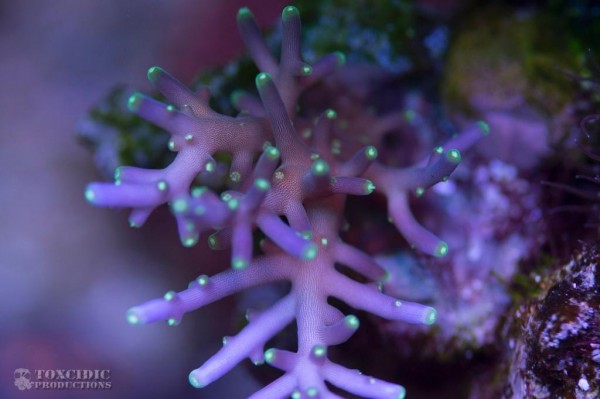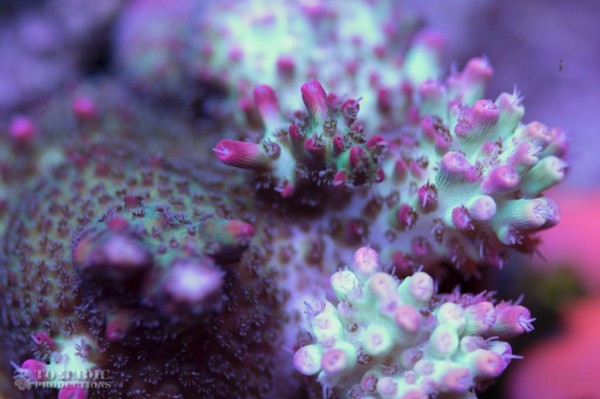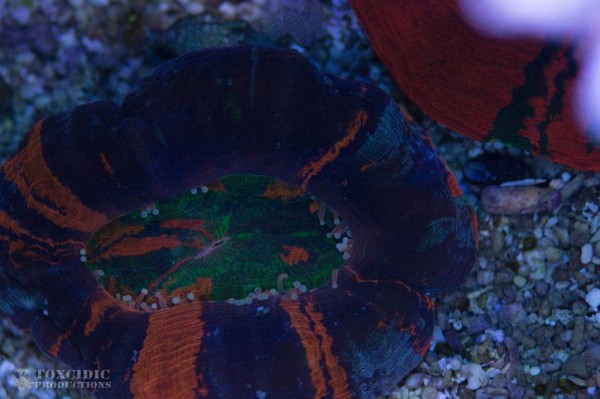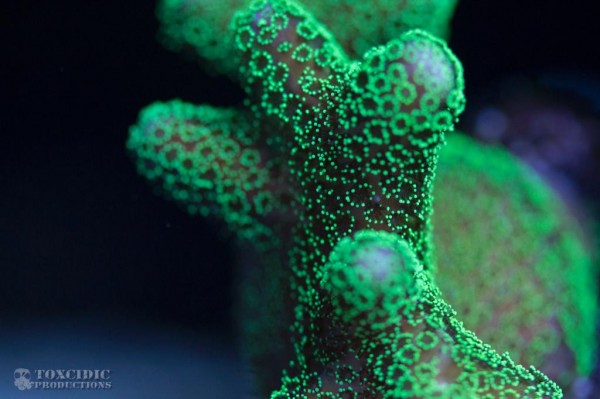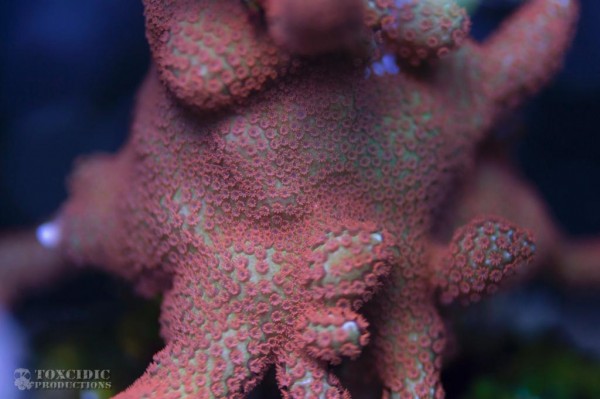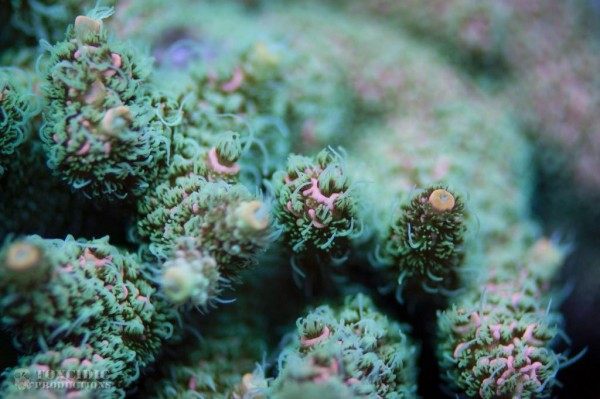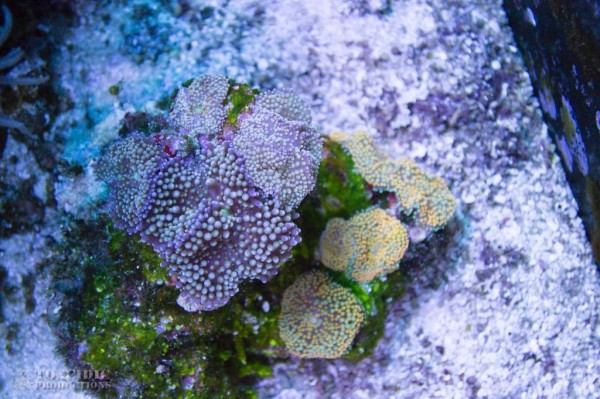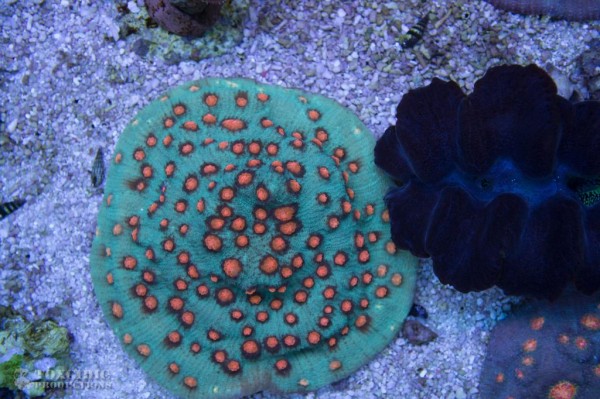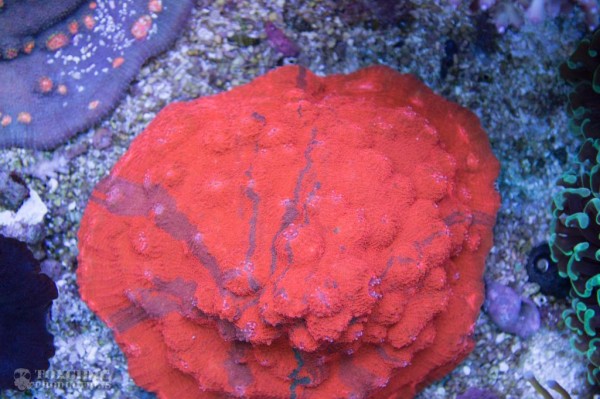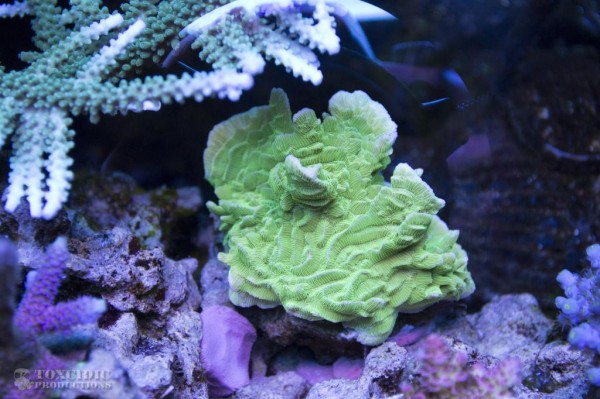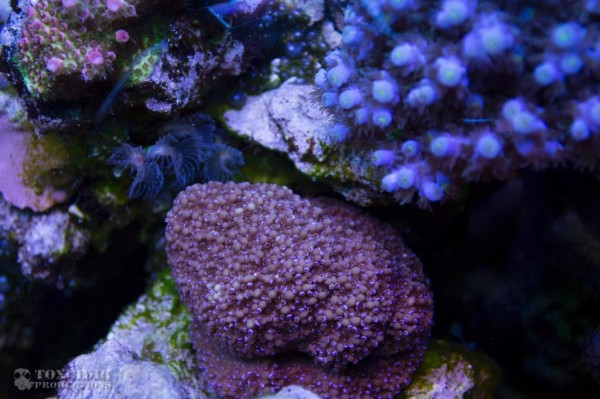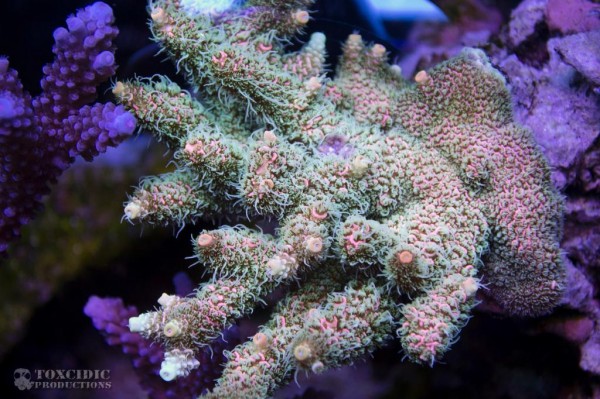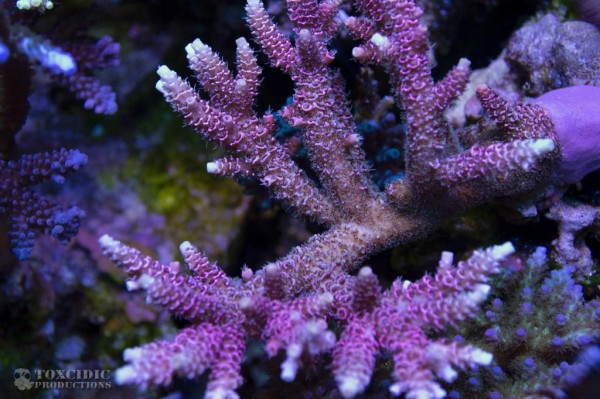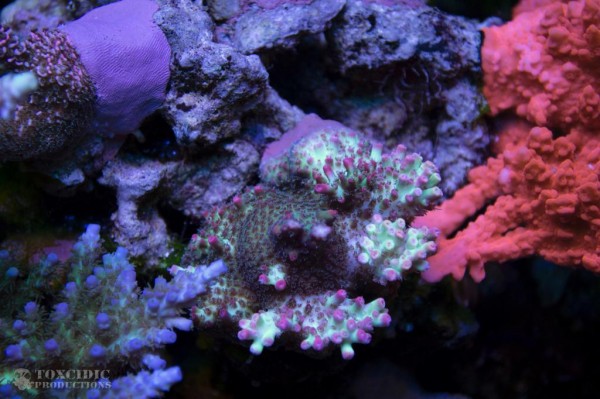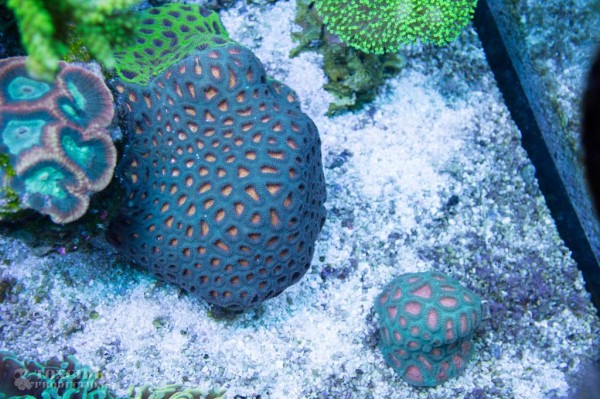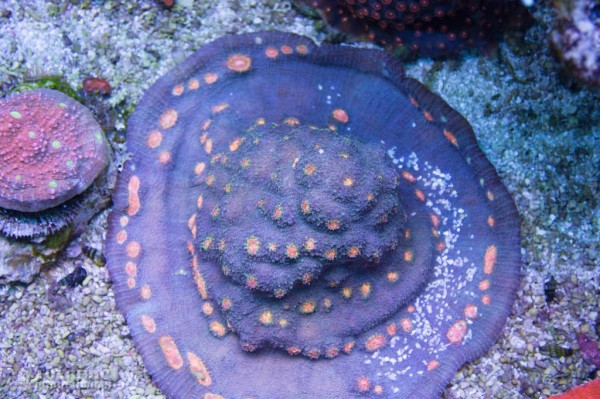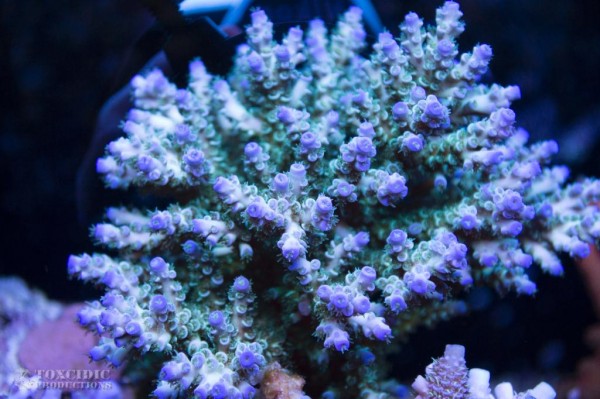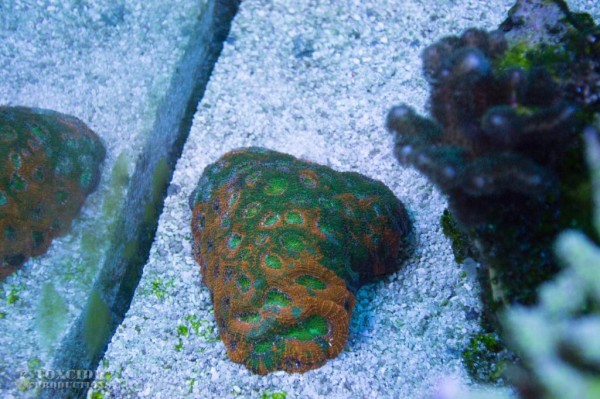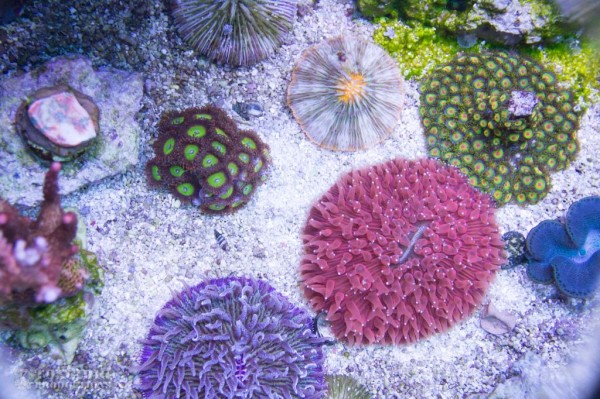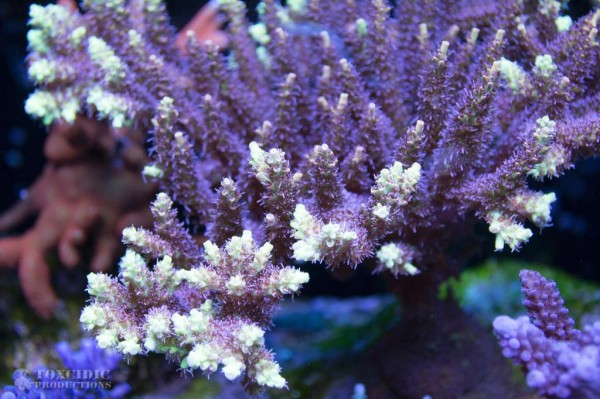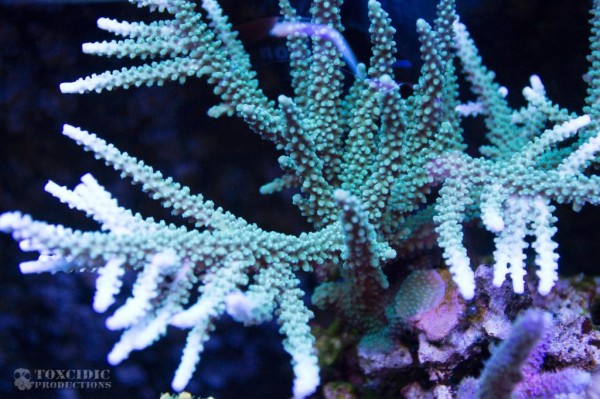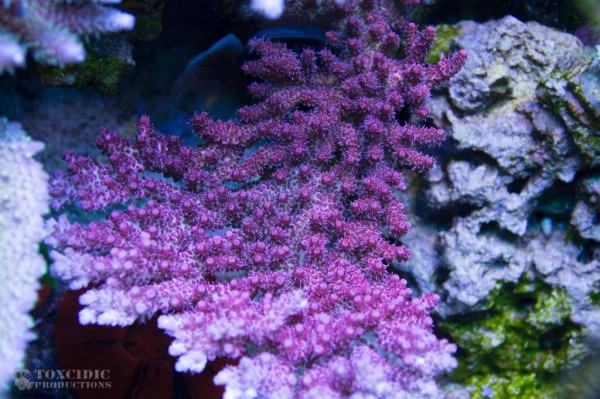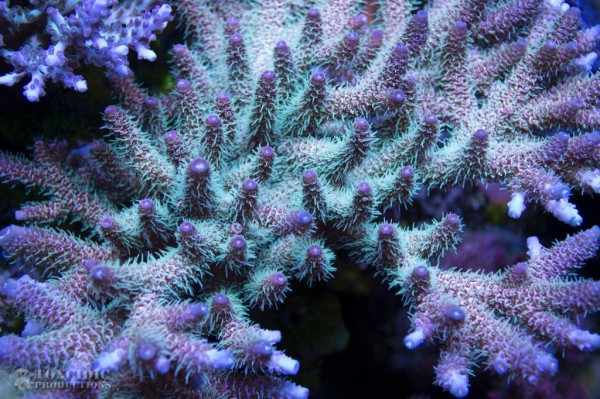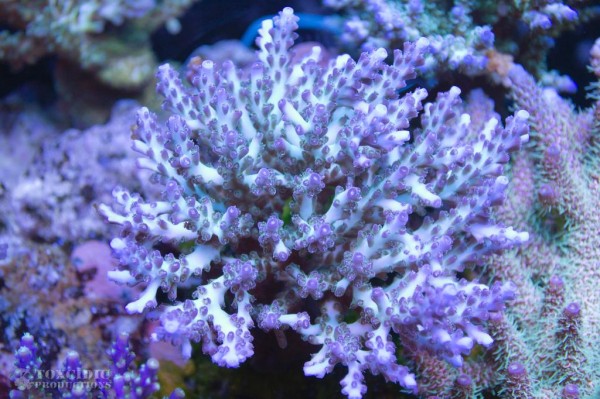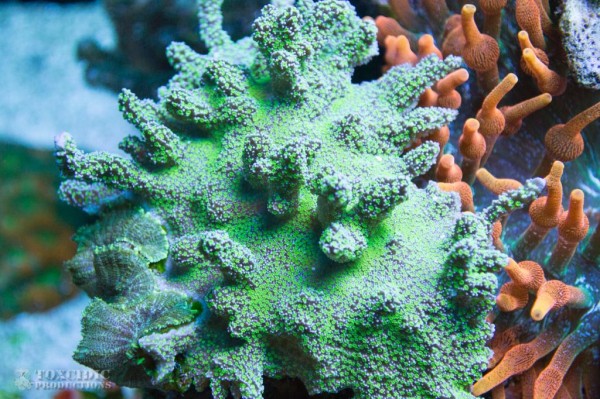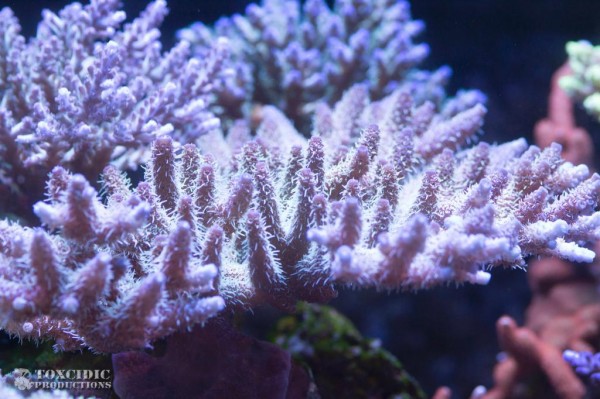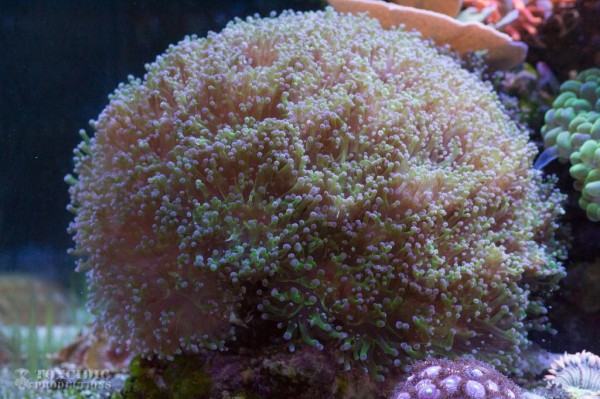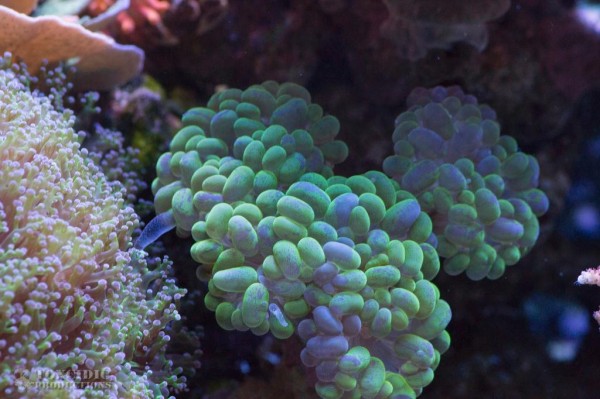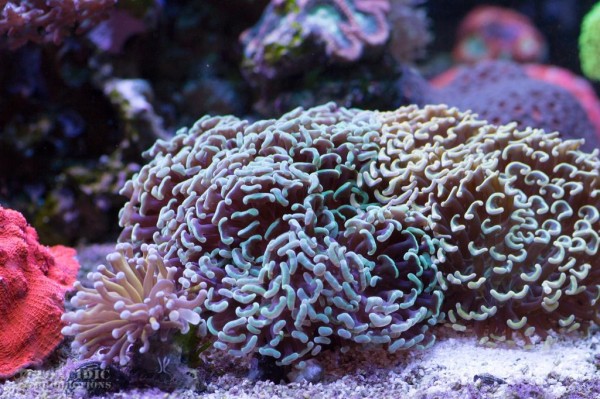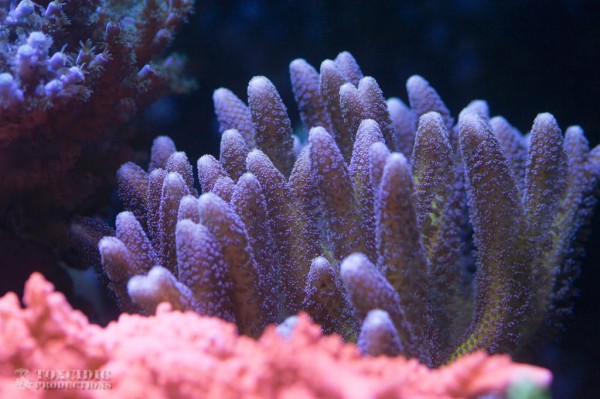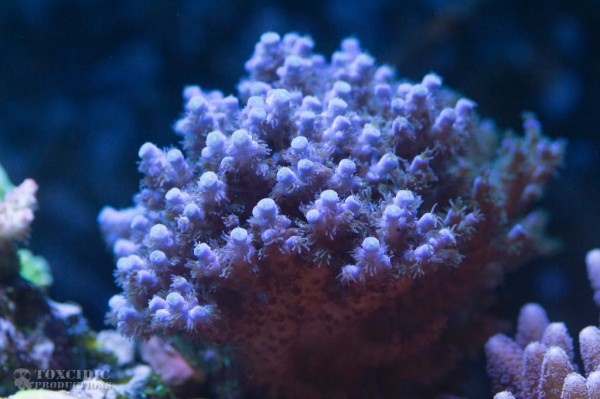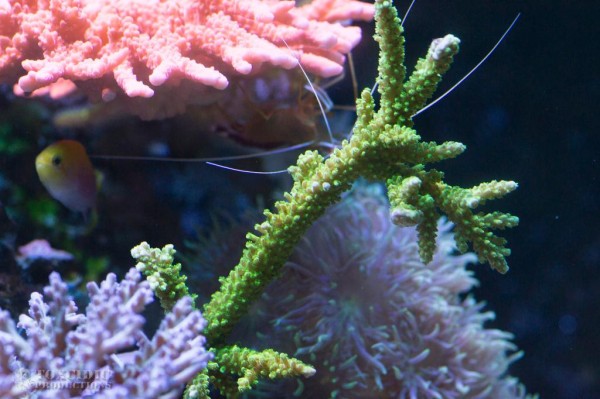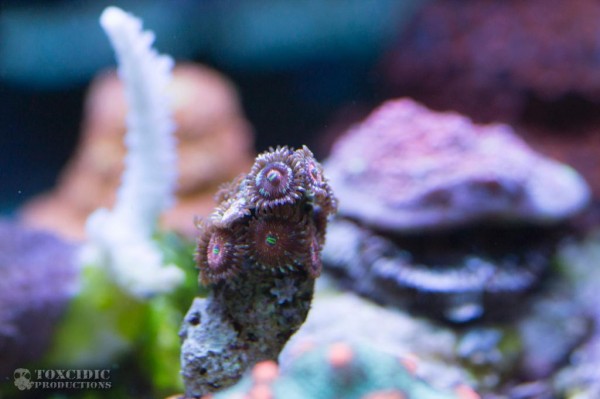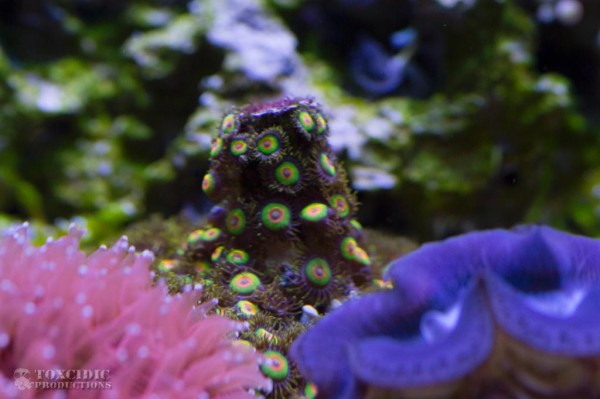 Fish & Coral feeding:
12 p.m.: Apex AFS – New Life Spectrum Marine Fish Formula 1-mm sinking pellets
LRS and PE Mysis, soaked in Selcon and Garlic Guard
Conclusion:
Every system is different from the other. What works for one person, may not work for another. I've seen too many reefers take ideas from social media without their own research. They end up killing livestock and/or crashing their tanks. Please take the time and do some research. There are so many online resources (forums/blogs) that will give you the answer you need. A social media "group" doesn't compare to a actual "club" where people meet and discuss their tanks/problems and solutions.
My success is due in part to MTRC its members and the content and members of Reef2Reef.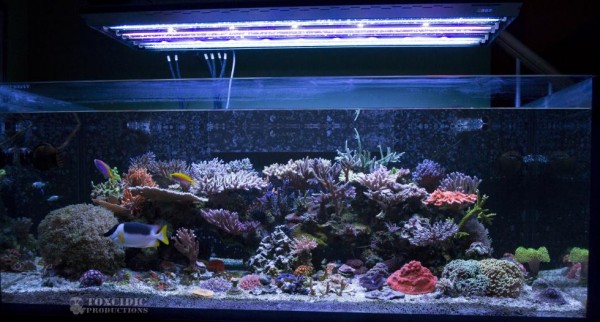 Check out other former Reef Spotlights here.






Tags:
reef spotlight