SPS Spotlight: Red Planet Acropora
Red Planet Acropora
Astronauts do not have to be the only ones to witness alien life. With this intense red SPS you can have a piece of the planet we may have to migrate to one day. The Red Planet Acropora is quite the coral. It is one of the many species with amazing color that most likely occurs only in captivity, but could possibly exist in the ocean as well. The Red Planet is partially a plating coral, but has traits of the branching types of Acropora also.
The polyps are more hair-like than the fingers you see on other SPS. The tips of each branch has polyps that extend out of them. The coral is generally all red, but under the right lighting they can produce a nice green tint to accent their bright red flesh. A fresh frag when glued to a plug, rubble, or live rock will encrust onto the rock as it consumes calcium and grows, which eventually becomes extremely strong and allows the support of a huge colony in the future.
Unlike most SPS, the Red Planet Acro actually does not need super bright lighting. Moderate lighting is preferred by this species. Possibly due to its captive life. Frags grown out in captivity of most corals tend to grow hardier as they get large enough to frag. The new frags from that become hardier, and so forth. This SPS can be had in an LPS stocked tank and actually look better than if you put it in the highest peak of an SPS dominant setup. The moderate lighting helps get the nice green to come out.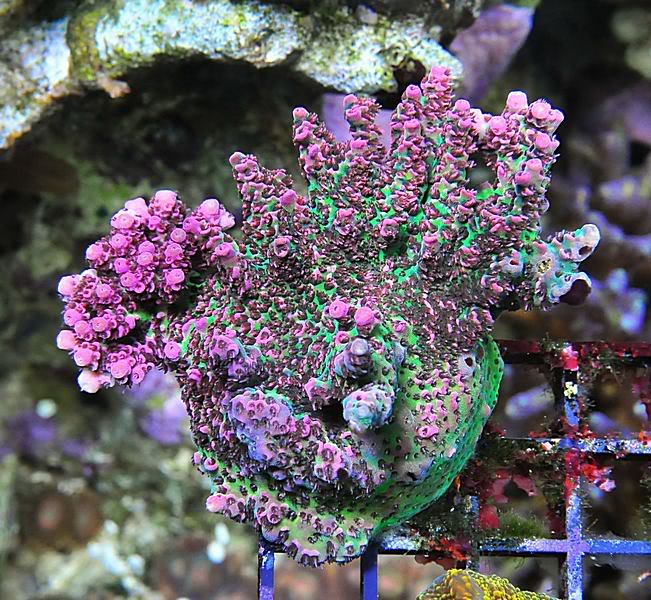 SPS lighting might not be necessary, but water quality is. Polyp extension may dwindle, the flesh may begin to bleach, and you may end up losing a coral if you have nitrates anywhere past 5ppm, ideally you want 0…even if the red planet is your only SPS. These can be very fast growing corals when Calcium, Alkalinity, and Magnesium are kept stable. Keeping phosphates and algae out of the tank is a must. A patch of algae can trick a phosphate test into a false reading, which in turn reduces the corals ability to use the calcium. Water changes along with great filtration will keep the coral happy.
Being an SPS, you can feed them any types of particulate matter such as plankton.
Fragging the corals is fairly simple. A set of bone cutters will work great to cut off any branches that are too long. Simply pull the coral out of the water, snip the branch into a bowl of tank water, put the mother colony back, then use super glue gel to adhere the frag to the plug or rubble. You should try to put the frag back with the mother colony until it fully heals. Once it heals it may go in a frag tank or another aquarium. If you prefer using a coral dip, make sure to dip the mother colony as well to prevent infection. If the fresh cut starts to grow algae or diatoms you will need to dip it again and possibly pluck off any long pieces of algae., which can potentially smother the whole coral. With proper water chemistry this should not be a problem and you should have a very impressive coral to show off on the SPS forum.
More discussion on the Red Planet Acropora






Tags:
acropora
,
red planet
,
red planet acro
,
sps